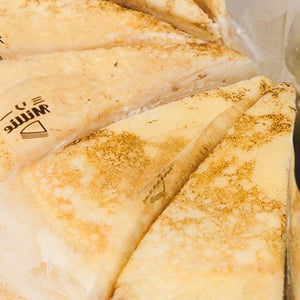 Each of our Mille Crêpe cakes is designed with the delicate balance of flavour and texture in mind. The perfect crepe cake combines twenty lacy, paper-thin crepes with an ethereal pastry cream in between each layer. Each crepe is made by hand, and every cake is carefully crafted and assembled by our pastry chefs. We've listed a few of our Signature flavours, but we often have limited-edition creations that change with the seasons.
Vanilla Crepe Cake
An excellent choice for those who enjoy classics. This cake is made with a premium vanilla bean, imported from Madagascar. 
Please note: We are not able to write messages directly on our cakes, however, we do offer plaques ("happy birthday" or custom plaques) and cake toppers.