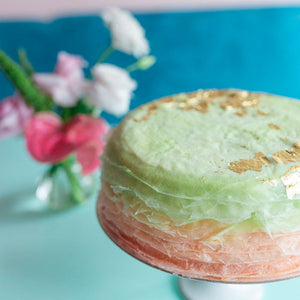 A colourful handmade crepe cake that is perfect for special events - to make it even more special, add 24k gold leaf to treat that special somebody.
Please note: 
Unless otherwise specified, the Ombré colours will be as shown (green, pink, yellow).
If you would like for us to customize your colour choices, you can specify up to two (2) colours that can be arranged above or with our standard yellow crepe (which will fill the bottom layers. 
In order to preserve the integrity of the colours, Vanilla is the standard flavour for our ombre cakes. However, modifications are available upon request - please contact us for more details. 
Disclaimer: Due to the specific conditions necessary to make this cake, we ask that you order 3 days in advance or contact us to ensure that there is no disappointment. 
Please note: We are not able to write messages directly on our cakes, however, we do offer plaques ("happy birthday" or custom plaques) and cake toppers..