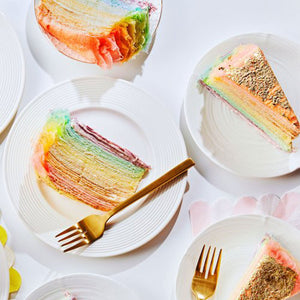 We created the Rainbow Crepe Cake as an homage to childhood, a reminder of an era of simpler joys. So what exactly do rainbows taste of, you ask? Our grown-up interpretation is of a lightly sweet and creamy concoction that we hope evokes memories of carnivals, of cotton candy, of candy apples, and of sparkly fairy magic. To make it even more special, add 24k gold leaf to treat that special somebody.
Please note:
In order to preserve the integrity of the fun rainbow colours, Vanilla is the standard flavour. Modifications are available upon request - please contact us for more details. 
Disclaimer: Due to the specific conditions necessary to make this cake, we ask that you order 3 days in advance or contact us to ensure that there is no disappointment. 
Please note: We are not able to write messages directly on our cakes, however, we do offer plaques ("happy birthday" or custom plaques) and cake toppers.