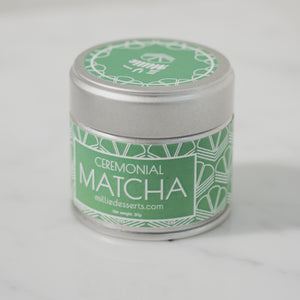 Matcha enthusiasts will approve of this ceremonial-grade, stone-ground matcha that is  cultivated and produced in Kyoto, Japan. 
Ceremonial-grade matcha is the highest quality of green tea powder available. Millie matcha is stone-ground with the youngest shade-grown tea leaves with the veins and stems removed. Our matcha is packaged for maximum freshness in a specially designed airtight tin. 
Instructions: use half a teaspoon of matcha for one cup of hot water (8 ounces). Whisk thoroughly.